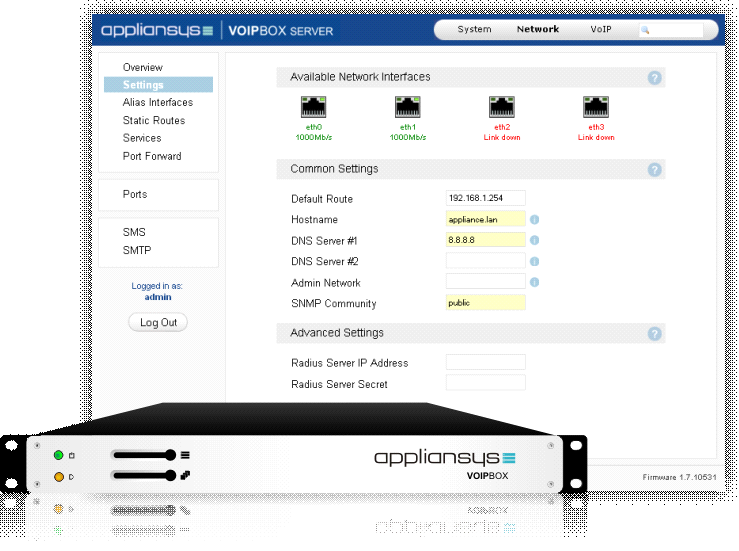 VoIPBox appliance provides dramatic enhancement of Voice Over IP (VoIP), with up to 10x more calls over an ADSL line. It can be used as an add-on option to the SoLink IP-PBX Communication System, SoLink IP-PBX appliance, or SoLink Retail Calling System to enhance the bandwidth utilization and voice quality among sites or branch offices.

VoIPBox appliance optimizes the way VoIP data is transmitted over the network in the following way:

10x as many calls can be handled on the same connection. That means up to 28 calls on a standard ADSL connection.
Dramatic improvement in sound quality of your calls by guaranteeing VoIP data is transmitted without interruptions.
Call reliability is improved by automatically switching over to backup connections so you can carry on with calls in progress.
Lines can be bonded to give you T1 capacity at ADSL prices.
KEY FEATURES
Flexible deployment
Supports both local and remote PBXs
Operates over Satellite links
Support for multiple voice protocols
Improving Call Reliability and Security
Backup links
Built in switch over to secondary IP connectivity enables resilient services to be deployed. Can be activated without losing calls in progress
Line bonding
ADSL lines can be bonded providing more bandwidth and resilience allowing the loss of a line without losing calls in progress
Private networks
VOIPBOX enabled sites can be joined together to form private networks, which means that security is easier to control
Easy to manage and ease to use
Web administration via secure SSL web interface
Shared management for multiple administrators via RADIUS authentication
Operating system runs from read only CompactFlash.
Simple upgrade facility: performance, feature and security updates packaged as a single file
VoIPBox appliance is a product of
ApplianSys Limited
.
To download or view the
product brochure
(in pdf format), please
click here
.
Please send an email to
sales@linksoft.com.hk
for further enquiries.