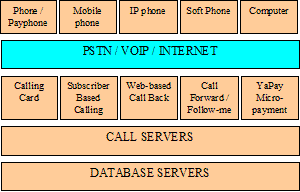 SoLink Retail Calling System is a multi-purpose prepaid / postpaid calling system that can be used for various telecom services including:
calling card
subscriber calling (based on ANI or caller ID)
one stage IDD long distance calling
residential VoIP calling
DID subscription with call-fowarding or follow-me
Web-based Call Back
YaPay Micro-payment
It provides an intuitive, multi-level, web-based interface for the administrators and resellers to confugire and manage the system. Click here to view some of the screen snapshots.


SoLink Retail Calling System may be integrated with our multi-tenant SoLink IP-PBX Communication System to form a complete host-based IP-PBX service provisioning platform for service providers. To find out more about the SoLink Retail Calling System, please refer to the feature list for details.

SoLink Retail Calling System offers the following benefits to service providers:
can be used for different types of calling services such as calling card, one-stage IDD long distance calling, residential VoIP calling, web-based call back, call forwarding (or follow-me), and YaPay micropayment services
offer scalable deployment options ranging from a single integrated server to multiple call servers with replicated database servers
offer flexible billing schemes (hidden, non-hidden, and periodic charges) for the operator to apply on a per-tariff basis
provide various reports to assist the operator in the day-to-day operation and to oversee the overall calling card business profitability
allow the service provider to delegate different responsbilities to different personnel with different security levels
integrate with DIDWW (using DIDWW API) to provide seamless DID subscription from DIDWW
can be integrated with SoLink IP-PBX system to form a complete host-based IP-PBX service provisioning platform
To download or view the our
product brochure
(in pdf format), please
click here
.
Please send an email to
sales@linksoft.com.hk
for further enquiries.